All that glitters isn't merely gold. For Brass has been inspiring fortunes with its shimmer for the City of Moradabad since ages. With over 75% of the population dependent on the metal work, 'Peetal Nagari' or the Brass City of India – Moradabad has carved a niche of its own through its fine craftsmanship of utility and decorative brassware. Reports reveal that industry generates the revenue of 15000 Crore within which export incomes stands at 10000 Crore. An Export Promotion Council for Handicrafts (EPCH) report traces USA, Germany and UK as the major export destinations for the brassware artifacts from Moradabad.
But it wasn't long ago when the sector was confronted with a challenge to adapt to a post Demonetization and GST world. The attempts faced a brutal blow with pandemic times posing a crisis of unprecedented nature. The voices unravels the tryst with the times.
Decline in daily income has hit the sector hard and is even forcing them to think about alternative sources of income or even giving up the generation old artistry. Mustafa, is a brassware craftsman from Moradabad. An artifact which earned him Rs. 310 before the lockdown, now merely fetches him Rs. 70. While many of his daily wage counterparts have lost work, Mustafa continues to struggle. But he is certainly dejected by the price crash and dropping sale. He says "I will not involve my children into this risky and low-income work. I will make my child to study and do any other work."
Image credit: odopup.in
Brassware, a low-cost technology industry, is also a labour-intensive industry. Many artisans have in-house manufacturing units and employ low-cost daily wage workers. The artistry in itself is a compound adventure and involves multiple stages namely moulding and casting (Dhalai), finishing and polishing (Chilai), engraving (Nakashi and Dastkari) and enameling (Rang Bharai).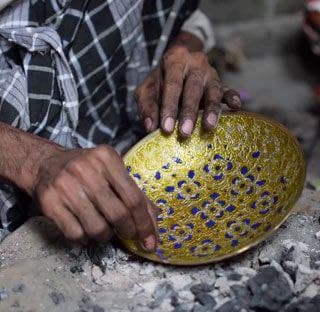 Artists work in hazardous environment. Despite of the low cost of the finished products, it involves more laborious work. Aslam Ansari a brass supplier tells "Artisans work in risky environment; continuous inhaling of smoke (Carbon dioxide, Carbon monoxide) causes serious damage to lungs." The health crisis manifests into life threatening diseases such as Tuberculosis, Asthma, Cancer. A January 2021 report by Centre for Science and Environment (CSE) said that Moradabad was at higher risk compared to big cities due to consistent rise in Air pollution level.
Polishing of Brass.
Muzaffar Hussain, the CEO of Creative Craft Exports tells The Voices "I advise the artisans to use eyeglasses, wear gloves, uniforms but most of them refrain from doing so, citing discomfort. They aren't educated enough to know about harmful effects of the furnace gases." Perhaps awareness drives complimented by NGO's is the only way out.
Grilling work pattern too has proven to be an impediment to the growth of Industry. To ensure an extra amount of income, apart from their prior commitments, artisan's take few bulk orders on their own. Muzaffar Hussain tells in this context, "They try to get bulk order from different exporters. But short delivery time, less manpower and bulk order results in quality being compromised, thus leaving buyers dissatisfied. Thereafter buyers either cancel the order or reduce the ordered quantity and we suffer huge losses."
Ensuring compliance in the post GST world hasn't been an easy adventure. Industry experts have been seeking relaxation of rates on export and expedited input credits.
A major section of the Industry still isn't formalised. Aslam Ansari, a brass supplier to the exporters cherishes GST as an essential reform for country's development but also tells "The promotion and welfare schemes are availed by registered and big exporters leaving behind a large section of unregistered artisans, small manufacturers without adequate resources."
In a sector wherein the price realization is already low, Ansari tells "price hike in raw materials creates a havoc for small manufacturers and daily wage workers." In such case market avenues safeguarded by government assistance can ensure efficient sales and better price realization.
Government has attempted to ensure avenues for interaction of seller and buyer through market development assistance grants. EPCH organizes Asia's largest gifts & handicrafts fair and invites artisans from the brass city and all parts of India to showcase their indigenous crafts ware. Hunar Haat fair is another joint initiative by Central and state government, attracts global buyers physically and also through virtual platforms. Reports says that Hunar Haat in particular has generated an income of 22 Crore for artisans.
Holistic welfare schemes might further infuse life in the sector. Hussain informs The Voices about a list of craftsmen that is shared with World Fair Trade organization. The organisation is a global association meant to extend financial aids, free education to the economically marginalized children from such communities.
Government has undertaken a range of progressive initiatives to encourage the artisans. PM Kaushal Vikas Kendra provides skill development at low cost, giving future artisans the opportunity to transform their lives and increase employability.
A recent U.P. Government scheme One District, One product-ODOP also intends to promote sale of indigenously specialized product from specific districts by providing seamless credit facilities, marketing support, and skill development opportunities.
Strangely the potential of The Moradabad SEZ hasn't yet been exploited at its best to infuse life in the Industry. Initially established as a dedicated SEZ for handicrafts,  Moradabad SEZ was later transformed into a multi-product SEZ in 2019. This inspired companies to diversify their nature of work. At present the existing 58 companies dealing in metalwork produce an assorted range of brassware.
Dr. VP Sharma Assistant Development Commissioner, Moradabad SEZ tells The Voices "Government incentivizes the companies established within the SEZ in various ways. Import of raw material is heavily subsidized. The labour security codes are strictly adhered herein. This ensures that the artists are allowed to flourish in a healthy environment and fixed term of contract." Uninterrupted power and water supply, workers insurance, sanitation, quality infrastructure, digital windows for clearance such as Sezonline are a few other features which could be exploited for the betterment of brassware industry. 
GI Tag certificate was given to Moradabad Metal craft to promote the product's distinctiveness from its origin and guarantees its quality. But recognition alone hasn't yielded wonders for Moradabad. For glaze to be restored, formalization coupled with delivery of social security incentives remains awaited by artisans while exporters await a paradigm shift in export import regulations to capture market at its best.